Blog > Flooring for your bathroom: tips, deco and more
Flooring for your bathroom: tips, deco and more
Monday, January 31, 2022 9:31 AM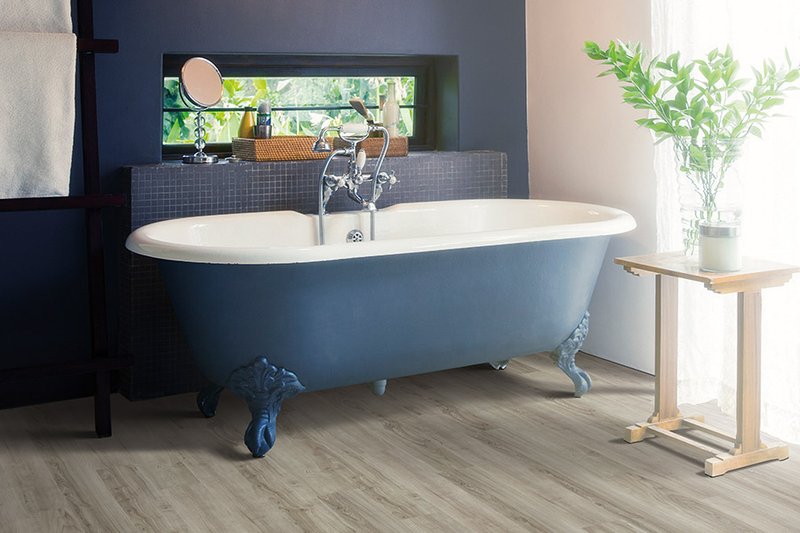 Renewing the bathroom floor is something that, although is essential, usually generates some questions. Many think about the dust that will be raised, the costs, the inconveniences for the use of the space, and other complications that have been linked to the remodeling work. However, there are options that stand out for their simplicity and ease of installation.

Maybe it's time to give your bathroom a new "look", don't you think? Having a nice, comfortable and pleasant space, in which you can enjoy your privacy, is an invaluable treasure. Here we have some advice if you want new flooring for your bathroom.


Renovate your bathroom
If there is a space in the home that you should bet on, that is, without a doubt, the bathroom. Although it is usually closed and out of sight of everyone, it is the room where you can find more pleasure and benefits. Coming home after a long day of work and being able to immerse yourself in a large bathtub with warm water and mineral salts or get into a comfortable shower that gives you massages, is something that is priceless.

Not only should you pay attention to cleanliness and neatness but you should pay attention to other aspects such as colors, furniture or fabrics. The bathroom is the only place where you can get a moment of privacy, silence and relaxation. It is the exclusive place where you can "relate" to your body and take care of it as it deserves. A rest, a reading and even a romantic evening can take place in this corner that you may have to remodel.

Sometimes simplicity has a lot to offer, especially when you have an exquisite result with little effort. According to Feng shui, the bathroom is the place where we wash and dispose of waste products and where we free ourselves from emotions and old ideas. There, as in the kitchen, is the flowing water, the one that represents fertility and financial stability, so it must be kept orderly, with the right colors and objects.


Fundamental keys in the bathroom reform
Perhaps now you are more convinced that your bathroom needs a remodel. If so, pay special attention to the following tips that will be essential in your new home construction project.

Clean lines are ideal if you want something simple but distinguished. The sober and Nordic tones, which lean towards vintage, are appreciated in the most recent interior decoration proposals. White, black and matte are joined by green and yellow in their pastel version.

While wood is still the queen, you can always combine it with natural stone for your flooring and ceramic flooring, it provides the greatest comfort and beauty for all the rooms in your home.

Remodeling a bathroom involves many processes, but considering the basics you should start by making sure that the plumbing and toilets work perfectly.

By taking care of hygiene, keeping windows clear and mirrors clean, incorporating a small green plants, using essences, adding flowers and having lamps or candles will allow the five elements to come together. You want not just a space to take a shower; you need a comfortable and healthy atmosphere to reach full relaxation.

Although these suggestions are very important, they may not fit with the concept of setting that you have in your mind, but it is worth considering them when planning the bathroom of your dreams. 
Simplicity and elegance
Looking for relaxation