Blog > 70's and 80's style for your living room with carpet tile flooring.
70's and 80's style for your living room with carpet tile flooring.
Tuesday, February 16, 2021 4:39 PM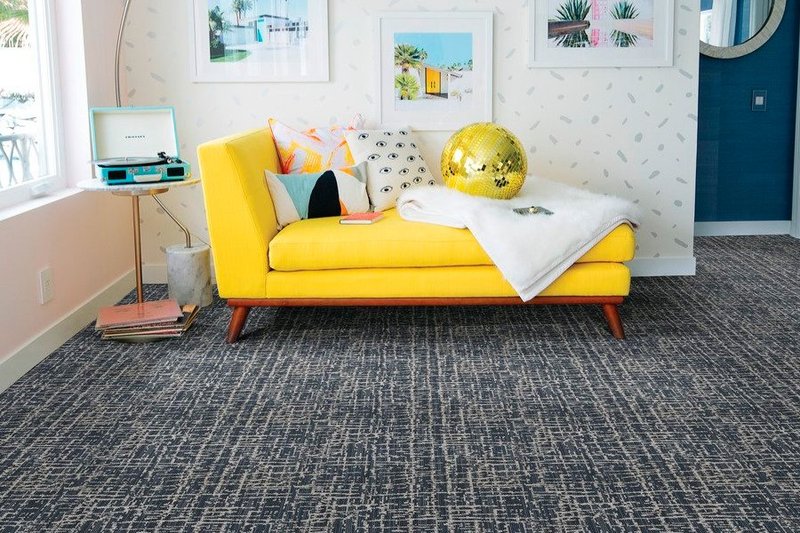 The 70s had a lot of that hippie trend of the 60s, incorporating geometric figures into their decoration. The combination of fabrics and textures is another of the decorative characteristics of the bohemian look of that decade and was used not only on carpets and floors, but on furniture, cushions and even walls.

The colors came from a natural tendency towards pinks, oranges, browns and combinations with that psychedelic touch from previous years.

Let's go to the 80s and the style for carpet floors

In the 80s the change was a bit more drastic but the bright colors and patterns were still integrated, but the color scheme was certainly much more electric.

Something very characteristic of that decade were the stripes in white and blue, pink or fuchsia to decorate bathrooms and intimate spaces, dark colors for furniture and dining rooms, in combination of carpets floors in a single color.

Some decorating ideas Philadelphia commercial flooring can provide for carpet flooring

Since we are talking about Carpet Tile Flooring decoration with a 70s and 80s style, let's see some ideas to make your environments look truly renewed with that bohemian style of the 70s or electric of the 80s.

Tile Style Carpets:


Tile-type carpets are used in hospitals, airports, and other high-traffic spaces so that floors are not damaged.

We do Carpet Installation to all these neighborhoods: Fairmount, Francisville, Brewerytown, Center City, North Philadelphia, Ludlow, Northern Liberties, Bella Vista, Queen Village, Hawthorne, Southwest Center City, Point Breeze, South Philadelphia, Point Breeze, Southwark, Lovely , University City, Powelton, Walnut Hill, Cedar Park, East Falls, Wissahickon, Manayunk, Roxborough, West Mount Airy, Upper Roxborough, Germany Hill, Shawmont, Andorra, East Mount Airy, Germantown, Modena Park, Morrell Park, Northeast Philadelphia, Parkwood Manor, Bensalem, Feasterville-Trevose, King of Prussia, Conshohocken, Havertown, Cherry Hill.

Interlocking tiles:


The interlocking tiles are lightweight and provide some soundproofing to the space, plus they come in the design you want.

Custom Vinyl Carpet Flooring:


Without a doubt there are many options for your living room and that just by changing your floors, it can look elegant and renewed. If you want to consult our installation process and what we have to offer you regarding Carpet Tile Flooring Installation, please do not hesitate to call us to give you the proper attention and help you decorate your home with the best floors in Philadelphia.